The process of decommissioning and disposing of fume hoods demands expertise and professional insight. Of course, there are a few steps you can take on your own to handle each of them. However, in order to ensure you complete them safely and correctly, you must fully understand the process. Or, you can enlist the help of professionals to assist you.
Fume hoods are among the most essential devices any lab can operate. They are indispensable when it comes to lab safety training and protecting your personnel. Fume hoods use fan and filter mechanics in order to remove harmful vapors and chemicals from the workplace. Operating fume hoods requires total precision and rigorous training in order to avoid common fume hood mistakes. Read on to learn all about decommissioning and disposing of fume hoods.
Decommissioning Labs & Disposing of Fume Hoods
When decommissioning a lab, it's imperative that you adhere to the official, correct procedure for fume hoods disposal. You must: execute a thorough chemical decontamination, disassemble the fume hoods, remove the framing and ductwork and decommission any used flammable or acid-proof cabinets.
1. Decontaminating Fume Hoods
How to Decontaminate Used Fume Hoods
When decontaminating fume hoods, it's important to consider the chemical storage of the fume hood. In addition, take into consideration and document the tests that you and your staff were conducting under it.
Disposing of Cleaning Materials & Waste
Disposing of the cleaning materials and waste will also depend on the types of chemicals you used in the hood. Each lab should have chemical-specific safety protocols, as well as general policies, for the safe disposal of these materials. Ultimately, the level of caution you apply to the procedure depends on the severity of the chemicals. And for further assistance, contact a professional decontamination service.
2. Disassembling Fume Hoods
A fume hood is simply stainless steel, a liner, and the hardware which maintains its structure. Once you safely decontaminate your fume hood, and remove any electrical or plumbing lines, then you can disassemble it in the same way you would any structure. Each fume hood should come with a manufacturer's manual outlining this procedure, and you can refer to that to verify the official (and safe) way to disassemble it.
3. Removing Ductwork
Often, stainless steel composes the fume hood's ventilation system ductwork. Therefore, it won't absorb any of the hazardous airborne agents it removes from the work area. However, if you were using more lethal chemicals in the past, it's critical to thoroughly decontaminate the materials first. Agents like dust and vapor could remain stuck within the steel. Obviously, this would severely elevate the level of danger at play when handling the ductwork.
Once you thoroughly decontaminate your ductwork, then you may remove it in the same way you would your own residential ductwork. When it comes to this procedure, you'll be able to handle it independently. However, if you have any doubts about the steel's cleanliness, contact a professional right away.
4. Decommissioning Flammable & Acid Cabinets
When decommissioning these cabinets, there are no rigorous precautions you should take that you wouldn't observe with standard fume hood units. However, it's important to ensure they're rid of hazardous chemicals, and they're ready for disposal.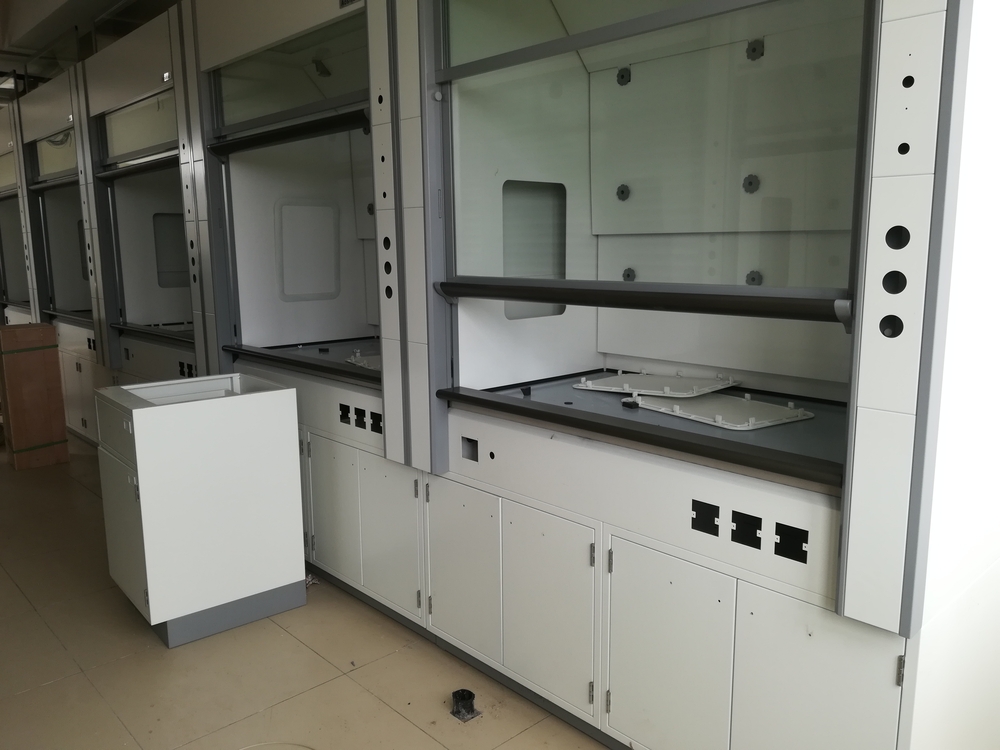 Fume Hood Disposals FAQs
Can I Recycle Fume Hoods and Ductwork?
Yes, you can! Aside from the liner and glass, the remainder of the relevant pieces will most likely be composed of stainless steel. Of course, this material is 100% recyclable. However, it's your responsibility to ensure it's delivered to the proper recycling facility.
Are Decommissioned Fume Hoods Hazardous?
If you decommission the fume hood thoroughly and follow all necessary steps, there's no reason for there to be any lingering hazards. Again, this is dependent on the chemicals and experiments your lab conducted within the hood previously. When it comes to acid fume hoods, follow your lab's specific policies for decontaminating each relevant unit.
Can I Return Old Fume Hoods to the Manufacturer?
While you can return a used fume hood to a manufacturer, it's most likely not worth your time or effort. Most often, manufacturers make no use of returned units. In addition, it will most likely be a significant expense to ship the heavy and bulky pieces back. Recycling the fume hood is the most sensible option.
When Is It Time to Replace a Fume Hood or Ductwork?
Like any lab device, fume hoods undergo serious deterioration over time. However, in the case of fume hoods and the hazards that malfunctions can present, it's critical to carefully pay attention to their functionality.
The most essential thing to observe is the face velocity. Is the fume hood getting the standard 100-feet-per-minute face velocity? If not, replacing it might be unnecessary. Look for any impediments in the hood's ductwork that may require simple maintenance or repair. Also, take a look to ensure that the blower's motor isn't expired.
If it still isn't getting proper airflow, the safest course of action would be to replace it.
Conclusion
As you can see, fume hoods demand professional knowledge when it comes to decommissioning, replacing and disposal. At SEPS, our expert techs have years of experience handling all three of these processes and more. Our accreditations and affiliations with the industry-leading agencies are a testament to our quality of service and expertise. To save you and your lab the hazard and frustration, at SEPS, we can handle absolutely all of your equipment necessities. For more information, contact SEPS now.