Fume hoods are vital to labs that use them. Since they are used so often, it is important that they perform well. Regularly testing and certifying fume hoods ensures the safety of lab personnel. That's where ASHRAE-110 comes in. The test involves measuring the performance of the fume hoods and certifying that they meet certain requirements. As scientific equipment service company, SEPS is proficient in fume hood testing and certification.
In this blog post, we will discuss what ASHRAE-110 fume hood testing is, what it involves, and when to do it.
What is ASHRAE-110 Fume Hood Testing?
The inhalation of toxic fumes is a major hazard in labs. Depending on the type of fume hood, there are various fans and filters which draw dangerous gases and fumes out of the lab. Therefore, the better functioning fume hood, the safer working environment.
Fume hoods must be regularly tested to comply with legal requirements. The testing standard for fume hoods is ASHRAE-110, set forth by ASHRAE or American Society of Heating, Refrigerating, and Air-Conditioning Engineers.
About The ASHRAE Society
ASHRAE is a worldwide organization dedicated to advancing the arts and sciences of heating, ventilation, air conditioning, and refrigeration. Founded in 1894, the society's engineers wanted to share knowledge and ideas about HVACR systems.
Today, ASHRAE has more than 50,000 members in over 130 countries. The society offers many benefits to its members, including access to research papers, conferences, and networking opportunities. ASHRAE also develops standards for HVACR systems that are used around the world.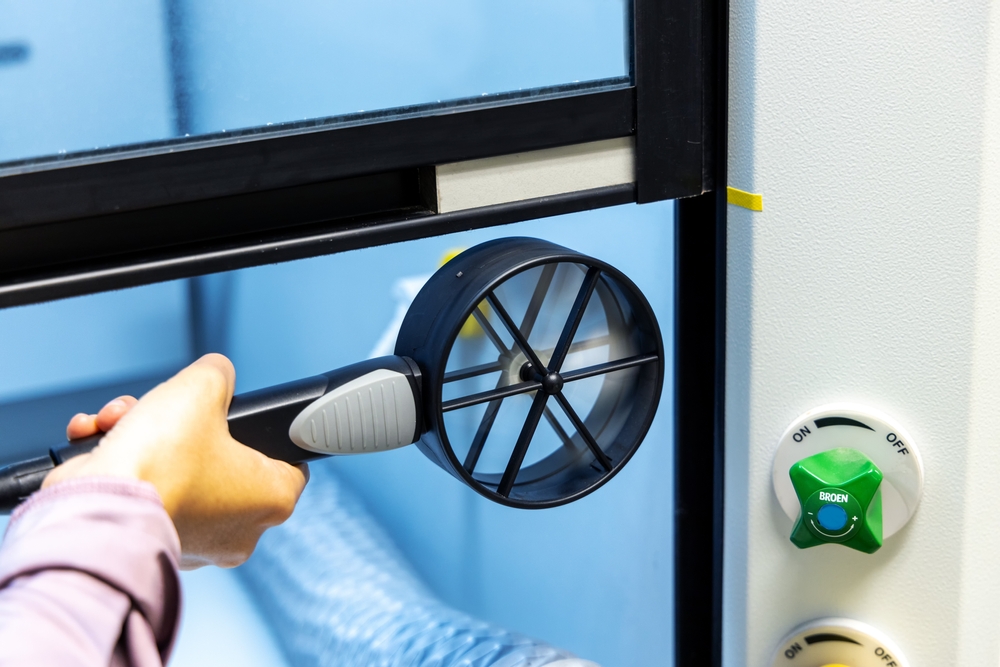 What Does ASHRAE-110 Fume Hood Testing Include?
Fume hoods are a vital part of any laboratory, and it is important to make sure that they are functioning properly. ASHRAE has clear testing guidelines to rate fume hood performance. There are 3 key areas: face velocity, smoke visualization, and tracer gas containment.
At SEPS Services, we provide ASHRAE fume hood testing to labs across the Tri-State Area. Here are the 3 main tests we perform, based on ASHRAE-110:
Face velocity is the measure of how quickly air is moving into the fume hood. This is important because it determines how effectively the fume hood can remove contaminants from the air.
Smoke visualization tests involve using a smoke generator to simulate a laboratory fire. We assess how well the fume hood contains smoke and prevents it from entering the lab.
Tracer gas containment tests involve releasing a harmless gas into the fume hood. Then, we measure the level of containment.
All 3 tests together ensure that fume hoods are effective at protecting laboratory workers from fumes and chemicals.
When Do You Test a Fume Hood?
According to ASHRAE, testing should happen yearly. However there are a few more instances when you need fume hood testing and certification.
First, we recommend testing new equipment following installation and before being used. This ensures proper installation. Additionally, it ensures that no damage has come to the lab equipment during transport. Most scientific equipment service companies will add certification to your in-lab delivery.
Second, any changes to the equipment requires testing and certification. For instance, after maintenance or service when there is an issue with the unit.
Third, testing after spills and lab contamination is important. Even if your lab has been decontaminated and sterilized, testing and certification will ensure your equipment is ready to start working again.
The Importance of ASHRAE-110 Fume Hood Testing
ASHRAE-110 fume hood testing is a critical part of lab equipment safety and effectiveness. Fume hoods are designed to protect workers from hazardous materials, fumes, gases, and chemicals. They must be tested regularly to ensure they meet the performance requirements set by the American Society of Heating, Refrigerating, and Air-Conditioning Engineers (ASHRAE).
The ASHRAE-110 fume hood test requires certification of both airflow velocity at face velocity as well as total exhaust volume. The fume hood must perform within 75 fpm and 100 fpm respectively in order to pass. This ensures that fume hoods will work properly when exposed to toxic fumes or gases. Without proper testing and certification, fume hoods can become unsafe and inadequate for use.
Testing fume hoods is critical to laboratory safety. A fume hood that isn't properly tested or certified can fail during an emergency, leading to possible exposure of workers to hazardous materials, gases, or fumes. That's why it is important to test fume hoods on a regular basis and make sure they are up-to-date with ASHRAE-110 requirements.
SEPS Services and ASHRAE-110
Fume hoods are vital to the safety of lab personnel. Regular testing and certification is essential to ensure that they are functioning properly. SEPS is a scientific equipment service company that is proficient in fume hood testing and certification. We can help you ensure that your fume hoods are meeting the requirements set forth by ASHRAE-110.