Cleanrooms are designed with HEPA filters and airflow designs to reduce airborne particles. In critical areas, particles will contaminate research or production. Cleanrooms require regular testing and certification to be sure that concentrations of airborne particles are controlled to specific limits.
Rooms are classified by the number of particles per cubic meter per minute. Classifications are described in ISO-14644-1, and they range from ISO class 1 through 9.
Service is generally performed on a quarterly, semi-annual or annual basis. This is determined by current standards, or client applications and requirements.
Our Service Areas:
Metro NYC
Long Island
Lower NYS (Albany & South)
Western Connecticut
Northern & Central New Jersey
North Western PA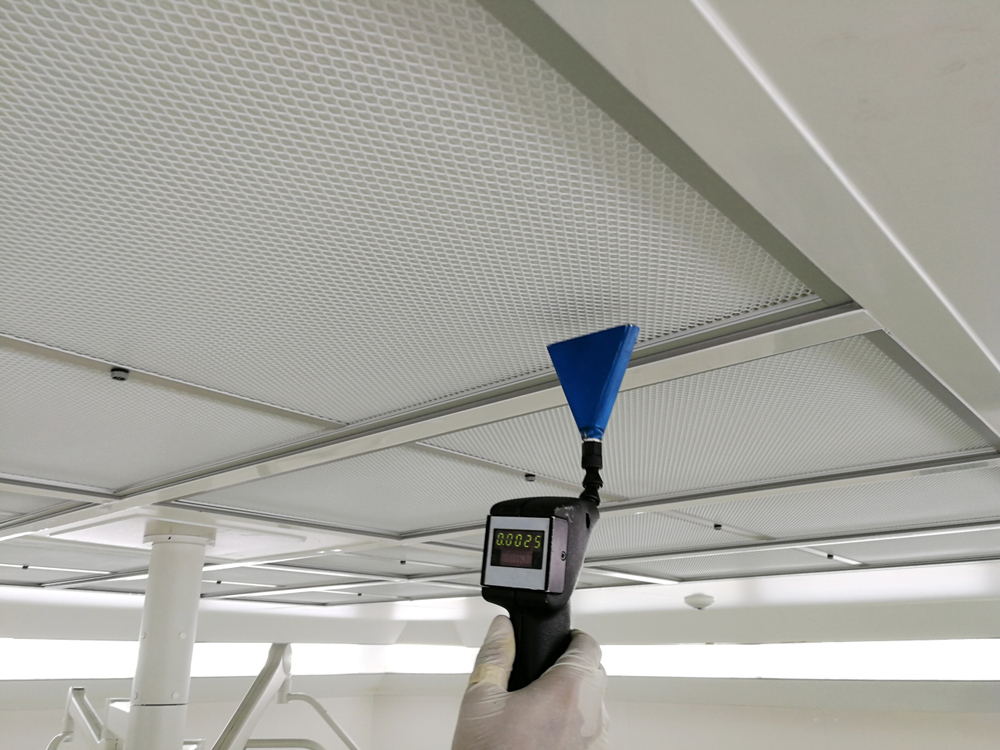 Cleanroom Testing and Certification Services
SEPS offers cleanroom and environmental services, including certification and testing.
All testing is performed by highly qualified technicians in accordance with current good manufacturing practices (cGMP). We follow strict (IEST) Institute of Environmental Sciences and Technology and (ISO) International Organization for Standardization guidelines.
SEPS technicians perform the following tests in all cleanrooms, as our basic (SOP's) standard operating procedures requires:
Airflow Volume / Velocity Test
Room Air Changes per hour test and calculations
Hepa Filter Integrity Test
Viables and Non Viable Particle Counting Test
Pressure Cascade Monitoring
Temperature / Relative Humidity Test
Lighting Test
Sound Test
Vibration Test (optional)
Airflow Visualization Test
Immediate Cleanroom Reporting
Cleanroom test reports are offered on the spot. All of our technicians work with SEPS computerized Cert Pro software.
---
ISO-14644-1 Cleanroom Standards
Particulate concentration will change over time in a cleanroom setting. ISO has three cleanroom timeline classifications: as-built, at-rest, and operational. As you add to your cleanroom with equipment and instruments, the particulates will rise. For instance; an "as-built" clean room will become an "at-rest" cleanroom, once you have added your new equipment to your lab.
How Clean Do You Need Your Cleanroom?
Depending on your industry and activities within the cleanroom, the class will change. SEPS provides consulting services to help meet your specific regulations.
While some industries do not have strict standards, cleanrooms even at an ISO8 will be beneficial. Electronics and optics are often damaged by the airborne dust and debris from unfiltered airflow.
Conversely, industries such as pharmaceutical, will have strict cleanroom needs. Regulatory systems such as the FDA and USP will require specific cleanroom configurations. SEPS will test and certify your cleanrooms, including your enclosure, entry, and main cleanroom.
Class
Maximum Particles/m3
0.1 micron
0.2 micron
0.3 micron
0.5 micron
1 micron
5 microns
ISO1
10
2
–
–
–
–
ISO2
100
24
10
4
–
–
ISO3
1,000
237
102
35
8
–
ISO4
10,000
2,370
1,020
352
83
–
ISO5
100,000
23,700
10,200
3,520
832
29
ISO6
1,000,000
237,000
102,000
35,200
8,320
293
ISO7
–
–
–
352,000
83,200
2,930
ISO8
–
–
–
3,520,000
832,000
29,300
ISO9
–
–
–
35,200,000
8,320,000
293,000